To best serve and support our students, we are now accepting documents online through DocuSign!
IMPORTANT NOTE: Electronic signatures validated by DocuSign are acceptable! Otherwise, a scanned wet signature is required for forms or tax documents that have Student or Parent(s) signature sections.
Scanned images or legible photographs from a smartphone are highly encouraged but please combine all documents as one PDF file when uploading onto DocuSign. Click on the link provided down below to begin the submission process.
Submission Process FAQs
1.) Log on to your SF State Gateway with your SF State Login
2.) Find the To Do List section of your gateway and click on any financial aid related items listed on there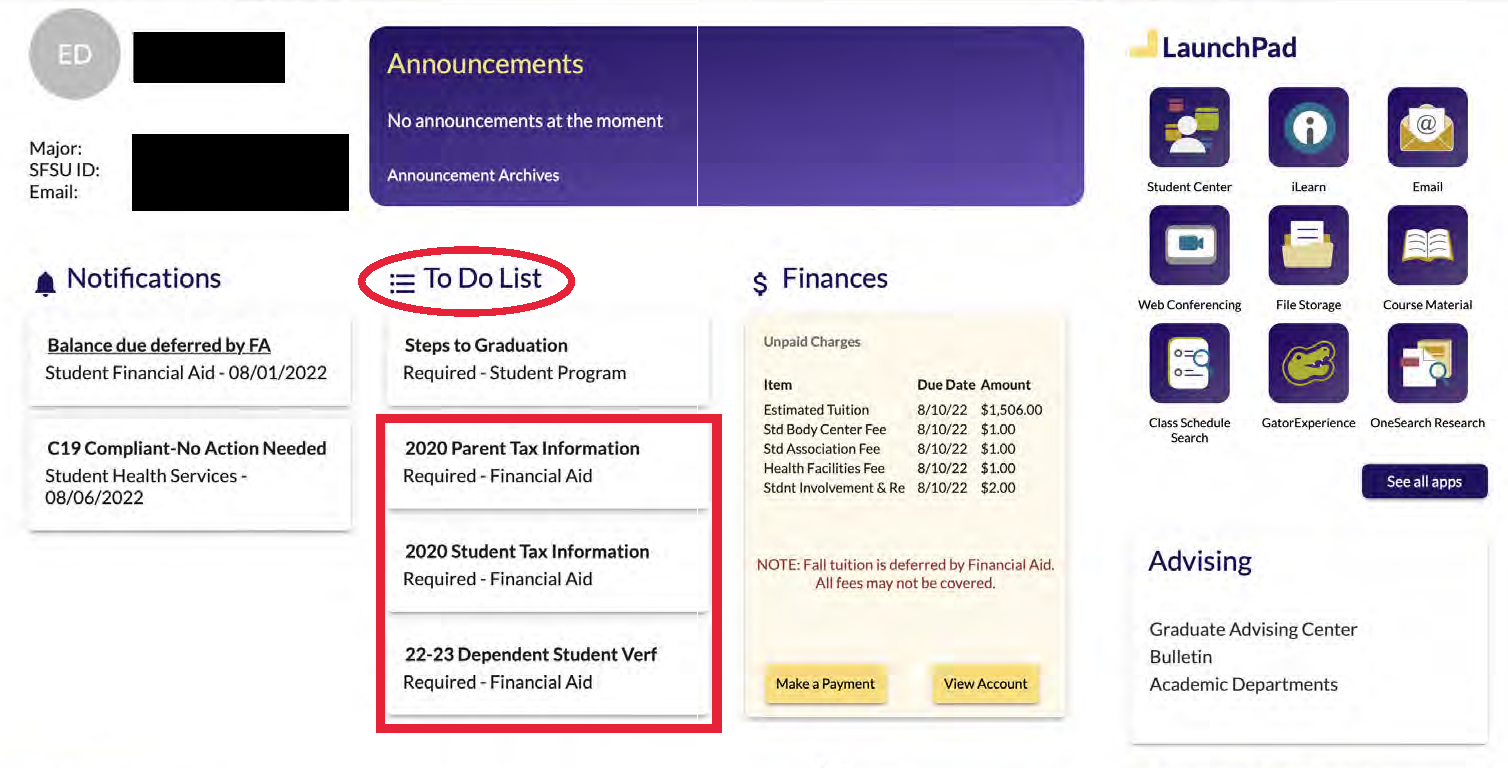 3.) Click on each item to get more detailed information on what its about and what must be submitted to our office
4.) Submit all your documents through the DocuSign Portal Link included in the description of the To Do List item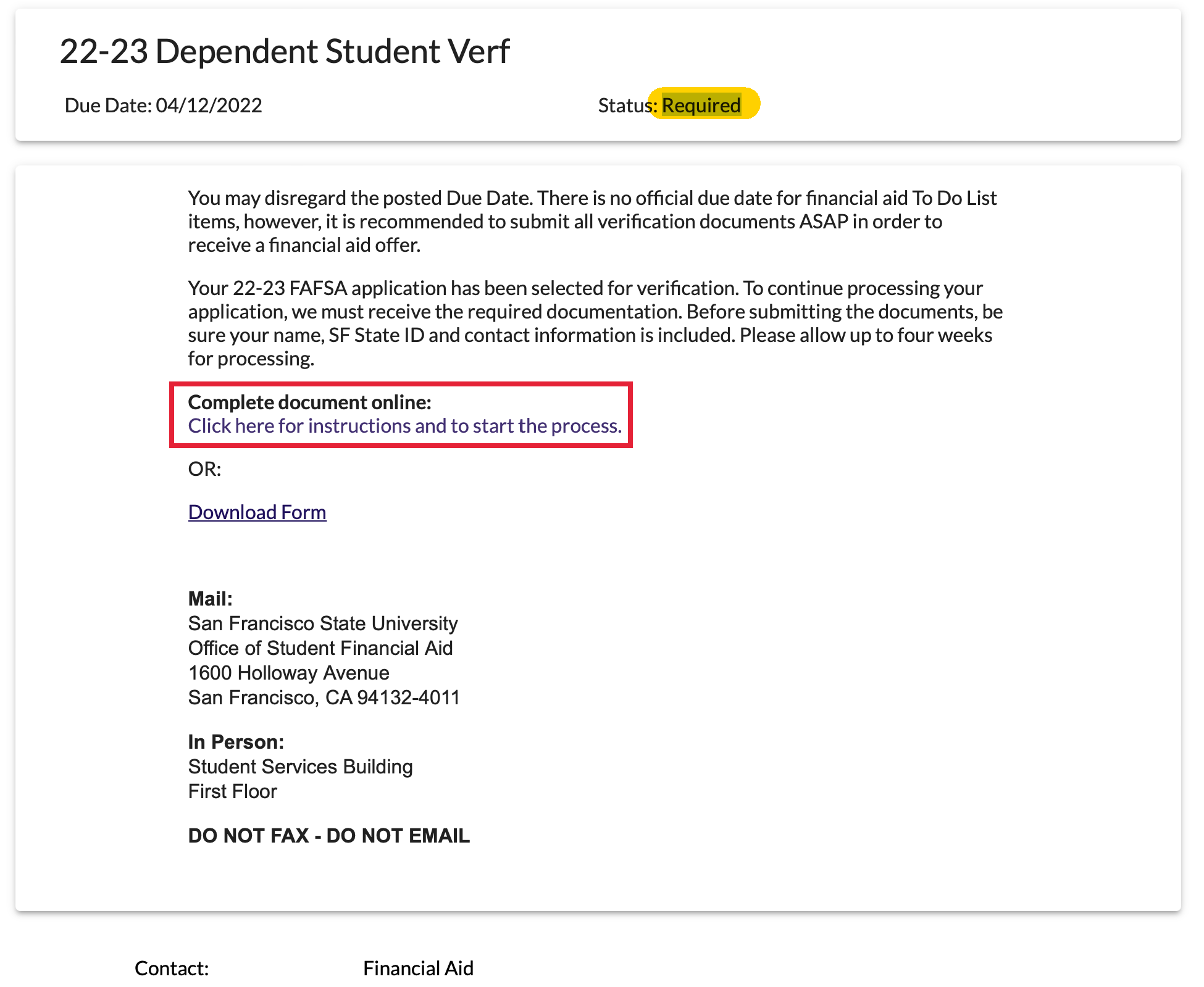 To help speed up your documents being processed, we advise all pages of each item you are submitting be combined into a single PDF file.
Example: All five pages of the Dependent Verification Worksheet as one file and all pages of the Tax Return Transcript as a separate file
If you are using a smartphone, you can use the free app, "Adobe Scan" to help with this process.
Start the process by clicking the "Online Document Submission" button found at the bottom of the "Reviewing Document Status" section and then follow these steps:
Enter your name and SFSU or personal email account. Click "Begin Signing"
Enter your details into the form, along with a brief description of what you are submitting
Click the paperclip icon to begin uploading
Click "Begin Upload"
Browse to select the document you wish to upload.

If you need to upload multiple files, you can click "Upload File" again to select more

Once all documents are attached, you can scroll down to review what will be uploaded.
If you are satisfied that everything needed has been attached, click "FINISH" at the top of the page.
Then you're all done! You will be given an option to download or print a copy of everything that was submitted. Otherwise, click "Close," and you can exit out of the tab.
Here is a preview of the information you'll need to provide on the form. Please note, if you close your browser, all progress will be lost.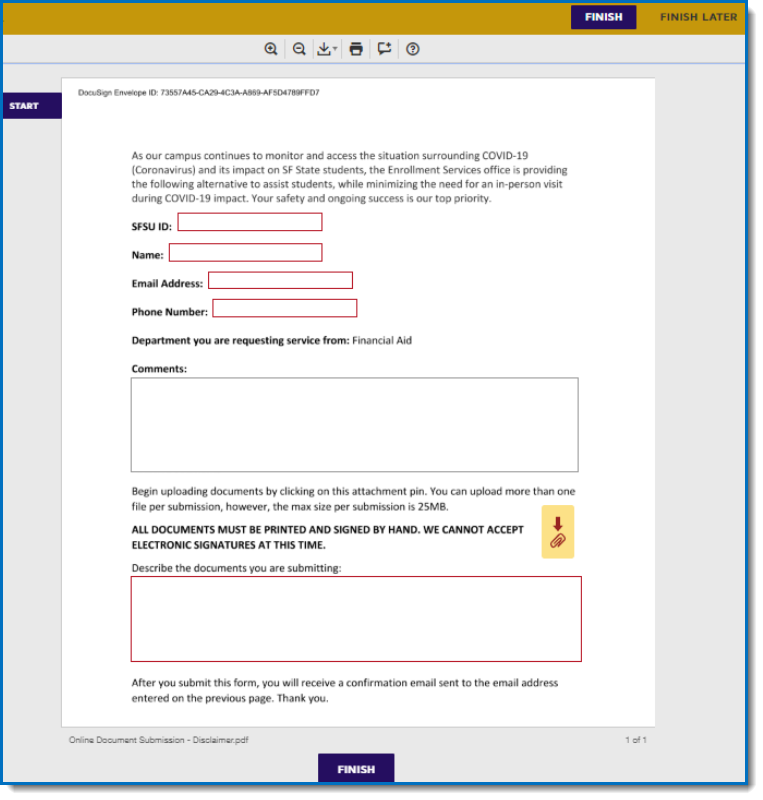 Document Status Guide

| Status | Meaning |
| --- | --- |
| Received | The document has been successfully uploaded into our system |
| Required | The document has not been uploaded into our system or the student has not submitted it |
| Incomplete | The document submitted by the student has been uploaded into the system but is missing page(s). The student most likely was e-mailed regarding this issue. If no e-mail was received, please check in with our office for the next steps |
IMPORTANT REMINDER: Please allow 3 to 4 weeks for review and processing once ALL your documents have been received by our office. Check your SF State e-mail frequently. If the Financial Aid Counselor assigned to your documents need additional information from you, they will reach out to you through there.
Once all the financial aid related items on your To Do List disappears, that's your confirmation that you are ready to be awarded your financial aid package! You will be e-mailed directly once the awards are available on your Student Center.