Disbursements began on August 17, 2022!
Tuition payment deadline for ALL financial aid students are DEFERRED (Delayed) until SEPTEMBER 19, 2022!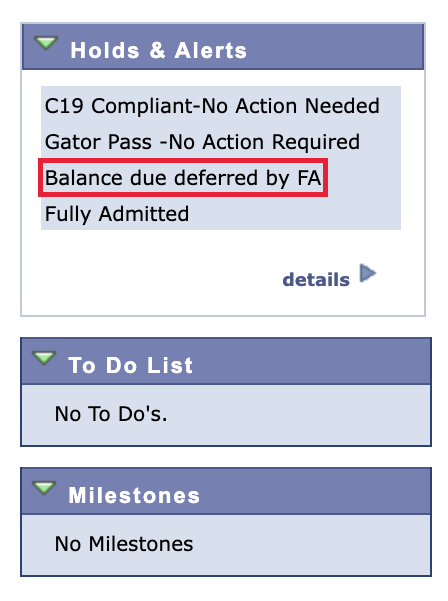 If you have a "Balance Due Deferred By FA" item on your Holds & Alerts section in your Student Center, please click on "DETAILS" to expand on the actual item. Once opened, it will inform you that your tuition fee payment deadline has been delayed to September 19, 2022. This deferment does NOT apply to on-campus housing fees.
IMPORTANT NOTE: No student will be dropped from their classes for non-payment after this date. If you have an outstanding balance after the tuition payment deadline, a ONE-TIME $20 late fee would be applied to your account by the Bursar's Office.
If you did not receive your disbursement on the first scheduled date, please do not worry!  Our office will be disbursing any unreleased accepted financial aid every Wednesday for the rest of the semester as long as there is nothing financial aid related on a student's To Do List or Hold & Alerts sections of their Student Center.
Ensure that your financial aid is ready for disbursement by checking the following:
You are enrolled in at least half-time amount (6 units for Undergraduate students / 4 units for Graduate students)

Students with Grant awards must be enrolled in full-time status (12 units - Undergraduate / 7 units graduate) to receive the entire amount in "accepted" status

There are NO financial aid related items on your To Do List

There are NO other holds preventing disbursement (Examples: FA SAP Hold, AB540 Tuition Exemption Hold, FA Cal Grant Hold, etc.)
Other Important Notes
Financial aid recipients are responsible for dropping all classes from their schedule if they do not plan to attend. You will incur charges (pro-rated tuition) if this is not completed by 08/19/22.

If there are NO other checklist items on your To Do List, you should have received your financial aid disbursement on August 17, 2022 – Our first disbursement date for Fall 2022 semester.  We will always disburse your aid towards your tuition charges first and any additional University fees after that.

If you are not living on-campus or have any leftover aid after your financial aid disbursement, you should receive your refund from the Bursar's Office based on:​​​​​​
| | |
| --- | --- |
| Enrolled in Direct Deposit | 3 to 5 business days from disbursement date |
| Not enrolled in Direct Deposit | 1 to 2 weeks as a mailed check from disbursement date (Sent to listed mailing address on Student Center) |