Congratulations, you have accepted your financial aid offer! When will you get it? How will you get it? What is a disbursement anyway? 
DISBURSEMENT - The payment of a student's accepted financial aid awards towards their current charges all at once.
When will my financial aid disburse?
To ensure your financial aid will disburse, ensure of the following:
You have accepted your awards
There are no financial aid related items on your Holds/To-Do List sections
You are enrolled in the correct amount of units
The first disbursement of the semester will be one week before school starts. Subsequent disbursements occur once a week throughout the semester, and you will only receive a disbursement if there is any remaining aid needed to disburse for that semester.
Your Account Activity will help you keep track of your disbursements
Your Account Activity is located in the Finances section of your Student Center, inside the "other financial" drop-down menu: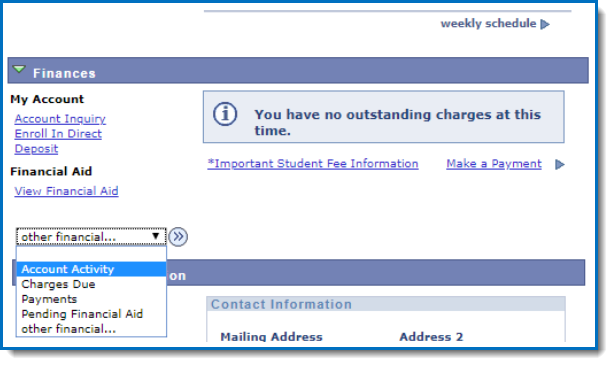 Click on Account Activity, and then on the double arrows, and you will be prompted to the Account Activity Screen: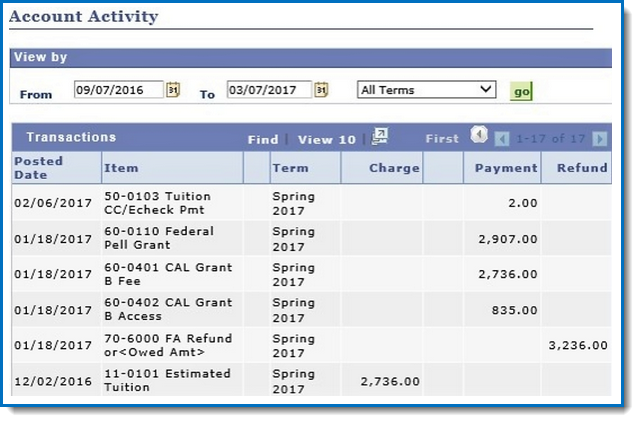 Charge column
The charge column indicates what the University has charged you for. You can see all of your charges regarding tuition, on-campus housing, pharmacy fees, lab fees, etc., and the date you were charged with this fee. Any questions regarding your charges should be directed to the Bursar's Office.
Payment column
The payment column reflects any payments made. You can track if and when any financial aid disbursements have occurred through the payment column. Financial aid first applies to any fees assessed on your account. Any remaining amounts will be given to you in the form of a refund.
Refund column
The refund column indicates any money that the Bursar's office is returning to the student. For financial aid students, any remaining aid after fees are paid off is called a refund. Refunds are sent one of two ways:
A check in the mail, using the mailing address that is listed with the University. Arrives 7-10 business days from the posted refund date on your Account Activity.
Direct deposit. Arrives 2-4 business days from the posted refund date on your Account Activity.
Students may enroll in direct deposit on their Student Center. 
Important information on disbursements
Late disbursements
There are a few financial aid types that are scheduled to disburse after Census. These are:
Pell Grant - Credential
MBA Grant
Ed Doc Grant
TEACH Grant
Middle-Class Scholarship
On-Campus housing fees
Students living on-campus are responsible for making sure that their housing payments are completed on time. If students anticipate that their financial aid will go toward housing charges, they should ensure that they have submitted or completed any necessary To-Do List items and have accepted sufficient aid prior to any payment deadlines.